BOARD OF DIRECTORS
CORPORATE GOVERNANCE PRINCIPLES COMPLIANCE REPORT
THE CONSOLIDATED FINANCIAL REPORT
UNCONSOLIDATED FINANCIAL STATEMENTS AND NOTES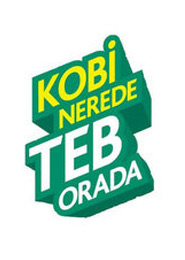 TEB SME BANKING GROUP
TEB SME Banking Group responds to its customers' various expectations and needs by offering them products and services of high added value and rendering services such as "consultant bank". Following the merger between TEB and Fortis Bank in 2011, the Group began to serve its portfolio of customers through a larger organizational structure.
• TEB Small Business Banking
• TEB Agricultural Banking
• TEB Gold Banking
• TEB Public Banking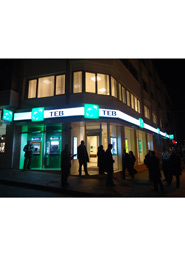 TEB RETAIL AND PRIVATE BANKING GROUP
TEB possesses just the right scale, delivery network and high-tech infrastructure to allow the Bank to offer its products and services to customers at the right time and in the right manner. Proper, planned and effective use of its retail banking capabilities have strengthened TEB's ambition in the area of retail and private banking.
• TEB Private Banking
• TEB Retail Banking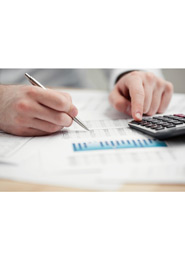 TEB ASSET LIABILITY MANAGEMENT AND TREASURY GROUP
One of the most important issues in the global banking sector is the effectiveness of asset liability management and how the sustainability of a bank's general liquidity can be protected.
Asset Liability and Treasury Department's primary goal is to manage the Bank's interest, country, structural FX and liquidity risks in its balance sheet in an optimal manner within the framework of the Bank's growth strategies and the limits defined by the Board of Directors and legal authorities, in order to maximize the Bank's risk-free capital.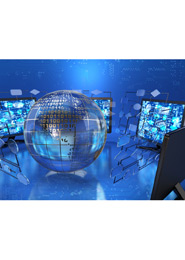 TEB INFORMATION TECHNOLOGIES
By using its own resources, TEB Information Technologies develops revenue-enhancing or cost and/or risk-reducing projects required by the Bank in line with its tactical and strategic targets.
Applications are offered to the Bank and its customers on with uninterrupted, 24/7 services. By keeping a close view of technological developments, TEB Information Technologies plays a key role in the development of new products and services to be offered to customers and in the improvement of the Bank's processes.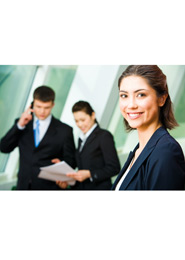 TEB HUMAN RESOURCES GROUP
The underlying objectives in TEB's human resources activities are to be one of the best examples of excellence in human resources practices in the financial services sector, to manage all human resources related processes actively so as to provide itself with a competitive edge and to support the Bank's human resources performance through coordination of the overall effort
• TEB Competence Model
• Projects undertaken by the Human Resources Group in 2011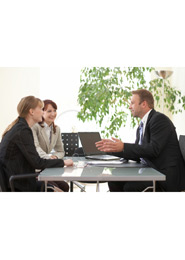 CORPORATE BANKING GROUP
Following the merger between TEB and Fortis in 2011, information pertaining to more than 8,000 corporate banking clients was transferred in a trouble-free manner, and innovations to increase the effectiveness of TEB's corporate segment were carried out.
TEB serves those of its customers with annual turnover equal to or exceeding TRY 30 million through a total of 20 Corporate Centers, 10 of which are located in Istanbul. TEB also offers its customers use of TEB's and BNP Paribas' products and services at the highest level.
TEB FACTORING
As one of the 3 biggest companies in the sector, TEB Factoring continued to serve corporate
and commercial firms and SMEs and increased its business volume in 2011 through a range of various export, import and domestic factoring products. The Company exceeded its annual profit target by 120%.
The most profitable factoring company in the sector
TEB Factoring recorded a 24% year-on- year increase in its turnover in TL terms in 2011, while chalking up a return on equity of 45.48% and a return on assets of 1.11%. The Company closed 2011 with TL 6 million in turnover. TEB Factoring boasts one of the highest productivity yields in the factoring sector.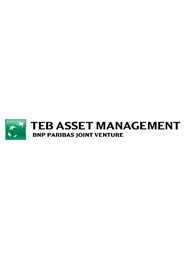 TEB ASSET MANAGEMENT
TEB Asset Management's fundamental objective is to determine the investment vehicle compositions of investment portfolios based on the risk profiles of their individual and corporate clients and to manage those portfolios accordingly with optimum  benefit.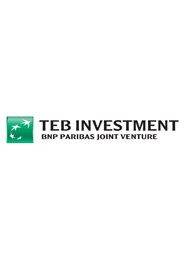 TEB INVESTMENT
Established in 1996, TEB Investment's primary field of activity is to engage in capital market operations in accordance with the provisions set forth in the Capital Markets Law no. 2499 and respective legislation.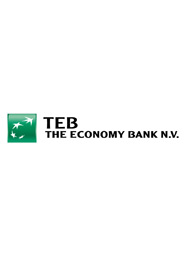 THE ECONOMY BANK N.V.
The Economy Bank NV (TEB NV) was founded in 1998 in the Netherlands. TEB NV's mission is to be one of the most active and service-focused players in the Turkish and European financial markets as the TEB Group's specialized service provider in the international trade & commodity finance business line.

In 2005, TEB NV became a member of the BNP Paribas Group, which is one of the biggest financial institutions in the world.
BOARD OF DIRECTORS